Sienna X is becoming the most popular spray tanning product available. Not only does it look like a very natural tan (strength tailored to everyones needs) it's safe and made with natural ingredients that your skin can really benefit from unlike the sun which can seriously damage your skin. Laura's spray tanning provides a very professional spray tanning service at a residential address in Aylesbury which is a lot cheaper than the salons (due to not having the overheads a salon has). Sienna X is associated with high profile TV shows, such as Strictly Come Dancing, Gladiators and How to Look Good Naked, as well as receiving ongoing mentions in Glossies, the national/local press and trade magazines.
Spray tanning for a natural looking tan - A professional spray tan that's good for you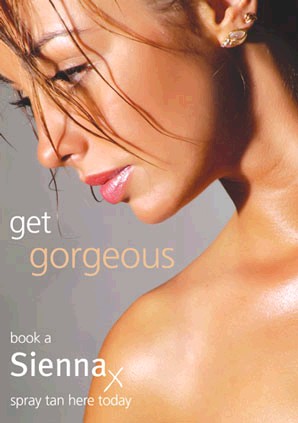 "Laura's spray tanning
" can also been found on Facebook where you can check in, find/ leave reviews and be kept up to date my with product and services . If you were to like and share my page you will be entered into a monthly draw where you could receive a free spray tan.
If you have an occasion coming up either a wedding, christening, prom, a girls night out etc.... and you would like to compliment your outfit with a gorgeous tan or would just like to have a gorgeous colour all year through then contact Laura. To book an appointment please text or phone me on
07930439004
or email
deanandlaura21@hotmail.co.uk